About Us
Del Printing, LLC is a brother and sister team. Gary started his
first printing job at 16. Now with 30 years of experience, he is well
qualified to print your next job! Lisa's superb customer service
insures every aspect of your job will be smooth.
Contact us Today!

Del Printing, LLC takes care of all of your printing needs, with quality, flexibility and speed. Call us today for a free print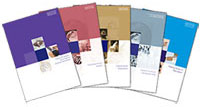 quote!
We are available to discuss your specific printing needs at your office. After your approval we will deliver your product directly to you.
That's our service! That's our success!
860.342.2959